The Good News About Treating ADHD
Attention deficit / hyperactivity disorder is now less a stigmatizing mystery and more a treatable neurologic condition. Now, when treating children and adults with ADHD, it's great to see the change. A child moves from an initial position of, "I want to do it but I just can't get it done." A while later life is in a better place. Children come to learn that they have more control over themselves and their daily activities. This isn't changing a devil into an angel. It's evolving a mischievous rascal into putting energy into becoming a true competitor in life. The medical names used for this developmental brain disorder of children have changed over time. These obsolete labels included minimal brain damage, minimal brain dysfunction, learning / behavioral disabilities, hyperactivity, hyperkinetic reaction of childhood, and attention-deficit disorder. We've come a long way in understanding.
New Zealand Psychiatric Care
We're including this article because readers have pointed out this dilemma faced by some psychiatrists in New Zealand who treat ADHD. They can't use amphetamine-based medications. If the person, child or adult, responds to some other type of medication, such as the methylphenidates or non-stimulants, all can be well. If not, and amphetamine might be the best choice, it's New Zealand Schedule 8 and they can't use it.
We've Asked The Royal Australian and New Zealand College of Psychiatrists
We sent this question to The Royal Australian and New Zealand College of Psychiatrists: If a psychiatrist in New Zealand decides that it would be in the patient's best interest to initiate a trial of dexamphetamine, is there a pathway forward to allow use? We are awaiting their reply and will post it here as soon as we hear from them.
Are Psychiatrists in New Zealand and Australia Taking Sides?
Treating ADHD is an area of medical practice that through the decades has been fraught with uncertainty and at times conflict. Over time, at the level of international consensus, clarification of aspects of this developmental brain disorder have been resolved. For example, it is now widely recognized that children with ADHD can grow to adulthood continuing to have ADHD. While there are still debates about adult ADHD, it is not debated that if a child had ADHD and that the signs and symptoms of that condition continue through adolescence and into adulthood, the adult person does have ADHD. It's also widely agreed that the medications most often helpful are the stimulants. And, they can help quickly and permanently. With appropriate medical supervision they can be taken as needed all of one's life.
What's This All About? Where Did This Topic Come From?

We're responding to a reader who wrote to us:
On reading our article on ADHD Treatment (a free page), a reader in New Zealand told us of a dilemma in ADHD treatment there. The doctors can't use any of the amphetamine-based medications, like Dexedrine or Adderall. The only "stimulants" they can use are the methylphenidate-based medications like Ritalin and Concerta. As a result, there are amphetamine-only-responder patients who cannot be appropriately treated. They pointed out that it's interesting, however, that dexamphetamine is available to children with ADHD in Australia, but not in New Zealand.
Who Says Stimulants Are the Best Treatment?
The (U.S.) Centers for Disease Control and Prevention page on the Treatment of ADHD says, "Stimulants are the best-known and most widely used ADHD medications. Between 70-80% of children with ADHD have fewer ADHD symptoms when taking these fast-acting medications." The (U.S.) National Institute of Mental Health web page on ADHD says, "Stimulants. The most common type of medication used for treating ADHD is called a "stimulant. Although it may seem unusual to treat ADHD with a medication that is considered a stimulant, it works by increasing the brain chemicals dopamine and norepinephrine, which play essential roles in thinking and attention. Under medical supervision, stimulant medications are considered safe. However, like all medications, they can have side effects, especially when misused or taken in excess of the prescribed dose, and require an individual's health care provider to monitor how they may be reacting to the medication."
More Expert Medical Opinion on Stimulants in ADHD
The Medical Letter on Drugs and Therapeutics is a highly respected medical information source. It's completely unbiased because it's independent of the pharmaceutical industry, supported only by subscriptions and donations, accepts no advertising, and has a strict policy that no reprints will be sold to the pharmaceutical industry. In the June 28 2021 issue The Medical Letter reviewed the latest FDA-approved non-stimulant. The Medical Letter's conclusion ends with the statement, "Stimulants are preferred for most patients." The American Academy of Pediatrics Clinical Practice Guideline for the Diagnosis, Evaluation, and Treatment of Attention-Deficit/Hyperactivity Disorder in Children and Adolescents says, "For elementary school-aged students, the evidence is particularly strong for stimulant medications…" The Guideline also states, "Most studies comparing behavior therapy to stimulants indicate that stimulants have a stronger immediate effect on the 18 core symptoms of ADHD."
The United Kingdom's National Health Service on Amphetamine in ADHD
The United Kingdom's National Institute for Health Research says, "Amphetamines probably the best first-choice treatment for adults with ADHD." The site describes further evidence that amphetamines might be the most effective medication to treat adults with ADHD. A systematic review of adults had 10,296 people from 52 randomized, double-blind, controlled trials. The analysis compared several drugs for ADHD either with each other or with placebo. At 12 weeks clinicians rated core ADHD symptoms using several scales. The result: amphetamines greatly improved symptoms. Moderate improvements were seen for methylphenidate and atomoxetine. The was uncertain moderate improvement with bupropion, and modafinil was no better than placebo. Amphetamines were the only drugs that were more acceptable than placebo, as measured by the proportion of participants who left the study for any reason. The drugs were equally tolerated based on people who left a study because of side-effects.
What the UK'S National Institute for Health and Care Excellence Says
NICE (the UK'S National Institute for Health and Care Excellence) has a guidance on the diagnosis and management of ADHD that was most recently updated in March 2018. NICE'S guidance recommends lisdexamfetamine or methylphenidate as the first-line medications for the treatment of ADHD in adults. It would stay with one of these two medications for up to twelve weeks. That is, if a medicine trial of one of these two medications has not shown enough benefit by six weeks, NICE suggests switching and trying the other of the two next. Lisdexamfetamine, taken once daily, is broken down slowly in the body to dexamfetamine. If it works but has effects that last for too long, standard dexamfetamine can be considered. This is taken every few hours. Only if they cannot tolerate lisdexamfetamine or methylphenidate or their symptoms have not responded to either of these drugs, atomoxetine should be offered.
ADHD Stimulant Prescribing Regulations & Authorities in Australia & New Zealand
Here's what the AADPA (the Australian ADHD Professionals Association) has to say about the amphetamines for ADHD situation. "All states and territories within Australia and New Zealand have their own laws about schedule 8 (i.e., dangerous drugs/poisons) which includes stimulants. Currently, all states and territories have different laws about stimulant prescribing which poses a problem for patients moving between jurisdictions and for doctors engaging in tele-psychiatry across jurisdictions. In addition, some states/territories do not honor prescriptions from other jurisdictions. All states and territories have regulations on their Health Department websites ranging from well laid out, specific instructions, ready access to application forms and Expert Reference Stimulant Panels to increasingly vague information to contact the local S8/Drugs of Dependence Units with all enquiries. Stimulant prescribers seeking permission to prescribe are advised to phone their state health department and speak to the department dealing with S8/controlled medicines or the pharmacy section."
The Royal Australian and New Zealand College of Psychiatrists
The Royal Australian and New Zealand College of Psychiatrists (RANZCP) has a website on the Professional Practice Guideline 6: Guidance for the use of stimulant medications in adults, October 2015. In the document it is stated that, " Methylphenidate and dexamphetamine and other stimulant medications enhance the presynaptic release of catecholamines, in particular dopamine. The Royal Australian and New Zealand College of Psychiatrists (RANZCP) supports the appropriate use of these drugs in the treatment of attention deficit hyperactivity disorder (ADHD) and narcolepsy in adults, for which there is a sound evidence base. Although stimulant medications have occasionally been used in other clinical disorders (see below), those indications are supported by a limited evidence base, and generally fall outside prescription regulations. This document provides clinical guidance for the use of stimulant medications, as one part of a holistic treatment plan."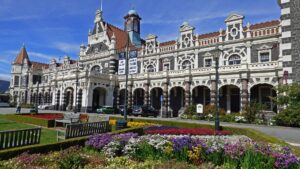 Our Reader's Question Still Stands
We are awaiting a reply to the question that we sent The Royal Australian and New Zealand College of Psychiatrists on December 21, 2021, and do hope to hear back from them. The question was this: If a psychiatrist in New Zealand decides that it would be in the patient's best interest to initiate a trial of dexamphetamine, is there a pathway forward to allow its use? It seems that the professional organizations in Australia and New Zealand agree with opinions in the UK, the US, and Canada, that there are people of all ages with ADHD for whom the best medication is one of the amphetamine-based medicines. So, if such an individual resides in New Zealand, is there a mechanism by which the person can be treated for the ADHD with an amphetamine?